Pace Tube Punches
---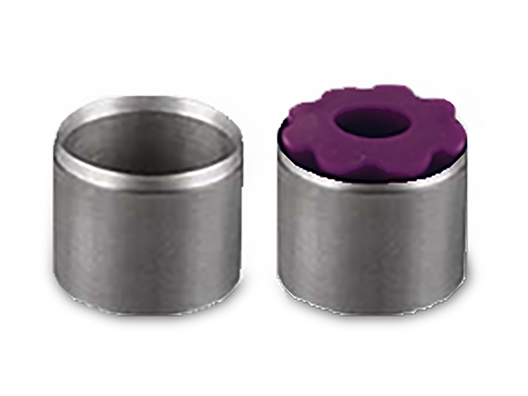 Pace® Tube Punches are manufactured to superior .001" height tolerances and are also precision ground for renowned performance on press. Available with or without springs, or Pace's proven Punchout ejection rubber.
Pace Punches Legend
__# = Pace Part Number
OB = Outside Bevel
CB = Center Bevel
IB = Inside Bevel

Our Customers Also Buy...
---
Catalog Number
Description
Qty
58144500
T1 7/64" Cut, OB 3/16" Base, 0.918" Height

CO

58144550
T1 7/64" Cut, OB 3/16" Base w/ Springs, 0.918" Height

CO

58144600
T1 7/64" Cut, OB 3/16" Base
58144650
T1 7/64" Cut, OB 3/16" Base w/ Springs
58144700
T2 3/32" Cut, OB 3/16" Base, 0.918" Height

CO

58144750
T2 3/32" Cut, OB 3/16" Base w/ Springs
58144800
T2 3/32" Cut, OB 3/16" Base
58144850
T2 3/32" Cut, OB 3/16" Base w/ Springs
58144900
T3 1/8" Cut, CB 3/16" Base, 0.918" Height

CO

58144950
T3 1/8" Cut, CB 3/16" Base w/ Punch Out
58145000
T3 1/8" Cut, CB 3/16" Base w/ Springs
58145050
T3 1/8" Cut, CB 3/16" Base
58145100
T3 1/8" Cut, CB 3/16" Base w/ Punch Out
58145150
T3 1/8" Cut, CB 3/16" Base w/ Springs
58145200
T3 1/8" Cut, CB 3/16" Base w/ Springs
58145250
T3 1/8" Cut, CB 3/16" Base w/ Springs
58145300
T3 1/8" Cut, CB 3/16" Base w/ Springs

SO

58145350
T4 9/64" Cut, CB 3/16" Base, 0.918" Height

CO

58145400
T4 9/64" Cut, CB 3/16" Base w/ Springs
58145425
T4 9/64" Cut, CB 3/16" Base
58145450
T4 9/64" Cut, CB 3/16" Base
58145500
T4 9/64" Cut, CB 3/16" Base w/ Punch Out
58145550
T4 9/64" Cut, CB 3/16" Base w/ Springs
58145580
T4 9/64" Cut, CB 3/16" Base w/ Punch Out

SO

58145600
T5 5/32" Cut, IB 3/16" Base, 0.918" Height

CO

58145645
T5 5/32" Cut, IB 3/16" Base w/ Punch Out
58145650
T5 5/32" Cut, IB 3/16" Base w/ Springs
58145700
T5 5/32" Cut, IB 3/16" Base
58145750
T5 5/32" Cut, IB 3/16" Base w/ Punch Out
58145800
T5 5/32" Cut, IB 3/16" Base w/ Springs
58145850
T6 11/64" Cut, CB 3/16" Base w/ Punch Out
58145900
T6 11/64" Cut, CB 3/16" Base w/ Springs
58145950
T6 11/64" Cut, IB 3/16" Base
58146000
T6 11/64" Cut, IB 3/16" Base w/ Springs
58146050
T6 11/64" Cut, IB 3/16" Base
58146100
T6 11/64" Cut, IB 3/16" Base w/ Punch Out
58146150
T6 11/64" Cut, IB 3/16" Base w/ Springs
58146200
T7 9/64" Cut, OB 1/4" Base, 0.918" Height

CO

58146250
T7 9/64" Cut, OB 1/4" Base w/ Punch Out, 0.918" Height

CO

58146300
T7 9/64" Cut, OB 1/4" Base w/ Springs, 0.918" Height

CO

58146350
T7 9/64" Cut, OB 1/4" Base, 0.937" Height

CO

58146400
T7 9/64" Cut, OB 1/4" Base w/ Punch Out
58146450
T7 9/64" Cut, OB 1/4" Base w/ Springs
58146500
T8 5/32" Cut, OB 1/4" Base
58146550
T8 5/32" Cut, OB 1/4" Base w/ Punch Out
58146600
T8 5/32" Cut, OB 1/4" Base w/ Springs, 0.918" Height

CO

58146650
T8 5/32" Cut, OB 1/4" Base, 0.937" Height

CO

58146700
T8 5/32" Cut, OB 1/4" Base w/ Punch Out
58146750
T8 5/32" Cut, OB 1/4" Base w/ Springs
58146775
T9 3/16" Cut, CB 1/4" Base

SO

58146800
T9 3/16" Cut, CB 1/4" Base, 0.918" Height

CO

58146850
T9 3/16" Cut, CB 1/4" Base w/ Punch Out
58146900
T9 3/16" Cut, CB 1/4" Base w/ Springs
58146950
T9 3/16" Cut, CB 1/4" Base
58147000
T9 3/16" Cut, CB 1/4" Base w/ Punch Out
58147050
T9 3/16" Cut, CB 1/4" Base w/ Springs
58147100
T9 3/16" Cut, CB 1/4" Base, 1.000" Height

CO

58147150
T9 3/16" Cut, CB 1/4" Base w/ Punch Out, 1.000" Height

CO

58147200
T9 3/16" Cut, CB 1/4" Base, 1.125" Height

CO

58147250
T9 3/16" Cut, CB 1/4" Base w/ Springs, 1.250" Height

CO

58147300
T9 3/16" Cut, CB 1/4" Base w/ Punch Out
58147350
T10 13/64" Cut, CB 1/4" Base, 0.918" Height

CO

58147400
T10 13/64" Cut, CB 1/4" Base w/ Punch Out
58147450
T10 13/64" Cut, CB 1/4" Base w/ Springs
58147500
T10 13/64" Cut, CB 1/4" Base
58147550
T10 13/64" Cut, CB 1/4" Base w/ Punch Out
58147600
T10 13/64" Cut, CB 1/4" Base w/ Springs
58147650
T11 7/32" Cut, IB 1/4" Base, 0.918" Height

CO

58147700
T11 7/32" Cut, IB 1/4" Base w/ Punch Out
58147750
T11 7/32" Cut, IB 1/4" Base w/ Springs
58147800
T11 7/32" Cut, IB 1/4" Base
58147850
T11 7/32" Cut, IB 1/4" Base w/ Punch Out
58147900
T11 7/32" Cut, IB 1/4" Base w/ Springs
58147950
T11 7/32" Cut, IB 1/4" Base w/ Springs
58148000
T11 7/32" Cut, IB 1/4" Base w/ Punch Out
58148050
T12 15/64" Cut, IB 1/4" Base
58148100
T12 15/64" Cut, IB 1/4" Base w/ Punch Out
58148150
T12 15/64" Cut, IB 1/4" Base w/ Springs
58148200
T12 15/64" Cut, IB 1/4" Base
58148250
T12 15/64" Cut, IB 1/4" Base w/ Punch Out
58148300
T12 15/64" Cut, IB 1/4" Base w/ Springs
58148350
T12 15/64" Cut, IB 1/4" Base, 1.000" Height

CO

58148400
T12 15/64" Cut, IB 1/4" Base w/ Springs
58148450
T13 13/64" Cut, OB 5/16" Base
58148500
T13 13/64" Cut, OB 5/16" Base w/ Punch Out, 0.918" Height

CO

58148550
T13 13/64" Cut, OB 5/16" Base w/ Springs, 0.918" Height

CO

58148600
T13 13/64" Cut, OB 5/16" Base, 0.937" Height

CO

58148650
T13 13/64" Cut, OB 5/16" Base w/ Punch Out, 0.937" Height

CO

58148700
T13 13/64" Cut, OB 5/16" Base w/ Springs
58148750
T13 13/64" Cut, OB 5/16" Base, 1.25" Height

CO

58148800
T14 7/32" Cut, OB 5/16" Base, 0.918" Height

CO

58148850
T14 7/32" Cut, OB 5/16" Base w/ Punch Out, 0.918" Height

CO

58148900
T14 7/32" Cut, OB 5/16" Base w/ Springs, 0.918" Height

CO

58148950
T14 7/32" Cut, OB 5/16" Base, 0.937" Height

CO

58149000
T14 7/32" Cut, OB 5/16" Base w/ Punch Out
58149050
T14 7/32" Cut, OB 5/16" Base w/ Springs
58149075
T14 7/32" Cut, OB 5/16" Base w/ Punch Out
58149085
T14 7/32" Cut, OB 5/16" Base
58149090
T14 7/32" Cut, OB 5/16" Base w/ Punch Out
58149100
T15 1/4" Cut, CB 5/16" Base, 0.918" Height

CO

58149150
T15 1/4" Cut, CB 5/16" Base w/ Punch Out
58149200
T15 1/4" Cut, CB 5/16" Base w/ Springs
58149210
T15 1/4" Cut, CB 5/16" Base w/ Punch Out
58149220
T15 1/4" Cut, CB 5/16" Base w/ Punch Out
58149250
T15 1/4" Cut, CB 5/16" Base
58149350
T15 1/4" Cut, CB 5/16" Base w/ Punch Out
58149400
T15 1/4" Cut, CB 5/16" Base w/ Springs
58149450
T15 1/4" Cut, CB 5/16" Base w/ Punch Out
58149500
T15 1/4" Cut, CB 5/16" Base w/ Springs, 1.000" Height

CO

58149550
T15 1/4" Cut, CB 5/16" Base w/ Punch Out
58149600
T15 1/4" Cut, CB 5/16" Base w/ Springs, 1.125" Height

CO

58149650
T15 1/4" Cut, CB 5/16" Base
58149700
T15 1/4" Cut, CB 5/16" Base w/ Punch Out, 1.250" Height

CO

58149750
T15 1/4" Cut, CB 5/16" Base w/ Springs
58149800
T15 1/4" Cut, CB 5/16" Base, 1.500" Height

SO

58149850
T15 1/4" Cut, CB 5/16" Base w/ Springs
58149900
T15 1/4" Cut, CB 5/16" Base
58149950
T16 17/64" Cut, CB 5/16" Base, 0.918" Height

CO

58150000
T16 17/64" Cut, CB 5/16" Base w/ Punch Out, 0.918" Height

CO

58150050
T16 17/64" Cut, CB 5/16" Base w/ Springs, 0.918" Height

CO

58150100
T16 17/64" Cut, CB 5/16" Base
58150150
T16 17/64" Cut, CB 5/16" Base w/ Punch Out
58150200
T16 17/64" Cut, CB 5/16" Base w/ Springs
58150250
T17 9/32" Cut, IB 5/16" Base
58150300
T17 9/32" Cut, IB 5/16" Base w/ Punch Out
58150350
T17 9/32" Cut, IB 5/16" Base w/ Springs
58150400
T17 9/32" Cut, IB 5/16" Base
58150420
T17 9/32" Cut, IB 5/16" Base w/ Punch Out (2x Nicks .030")

SO

58150450
T17 9/32" Cut, IB 5/16" Base w/ Punch Out
58150500
T17 9/32" Cut, IB 5/16" Base w/ Springs
58150501
T17 9/32" Cut, IB 5/16" Base w/ Punch Out
58150502
T17 9/32" Cut, IB 5/16" Base
58150540
T17 9/32" Cut, IB 5/16" Base
58150550
T17 9/32" Cut, IB 5/16" Base, 1.500" Height

CO

58150560
T17 9/32" Cut, IB 5/16" Base
58150600
T18 19/64" Cut, IB 5/16" Base, 0.918" Height

CO

58150650
T18 19/64" Cut, IB 5/16" Base w/ Punch Out, 0.918" Height

CO

58150700
T18 19/64" Cut, IB 5/16" Base w/ Springs
58150725
T18 19/64" Cut, IB 5/16" Base w/ Punch Out

SO

58150750
T18 19/64" Cut, IB 5/16" Base
58150800
T18 19/64" Cut, IB 5/16" Base w/ Punch Out
58150850
T18 19/64" Cut, IB 5/16" Base w/ Springs
58150900
T18 19/64" Cut, IB 5/16" Base, 1.000" Height

CO

58150950
T18 19/64" Cut, IB 5/16" Base
58151000
T19 17/64" Cut, OB 3/8" Base, 0.918" Height

CO

58151050
T19 17/64" Cut, OB 3/8" Base w/ Springs, 0.918" Height

CO

58151100
T19 17/64" Cut, OB 3/8" Base, 0.937" Height

CO

58151150
T19 17/64" Cut, OB 3/8" Base w/ Punch Out
58151200
T19 17/64" Cut, OB 3/8" Base w/ Springs
58151210
T19 17/64" Cut, OB 3/8" Base w/ Punch Out
58151250
T20 9/32" Cut, OB 3/8" Base, 0.918" Height

CO

58151300
T20 9/32" Cut, OB 3/8" Base w/ Punch Out, 0.918" Height

CO

58151350
T20 9/32" Cut, OB 3/8" Base w/ Springs, 0.918" Height

CO

58151400
T20 9/32" Cut, OB 3/8" Base
58151450
T20 9/32" Cut, OB 3/8" Base w/ Punch Out
58151500
T20 9/32" Cut, OB 3/8" Base w/ Springs
58151550
T20 9/32" Cut, OB 3/8" Base
58151560
T20 9/32" Cut, OB 3/8" Base w/ Springs

SO

58151600
T21 5/16" Cut, CB 3/8" Base, 0.918" Height

CO

58151650
T21 5/16" Cut, CB 3/8" Base w/ Punch Out
58151700
T21 5/16" Cut, CB 3/8" Base w/ Springs
58151750
T21 5/16" Cut, CB 3/8" Base
58151602
T21 5/16" Cut, CB 3/8" Base
58151850
T21 5/16" Cut, CB 3/8" Base w/ Punch Out
58151900
T21 5/16" Cut, CB 3/8" Base w/ Springs
58151606
T21 5/16" Cut, CB 3/8" Base Tool Steel w/ Punch Out
58151950
T21 5/16" Cut, CB 3/8" Base
58152000
T21 5/16" Cut, CB 3/8" Base, 1.125" Height

CO

58152050
T21 5/16" Cut, CB 3/8" Base w/ Springs, 1.125" Height

CO

58152100
T21 5/16" Cut, CB 3/8" Base
58152150
T21 5/16" Cut, CB 3/8" Base w/ Punch Out
58152200
T21 5/16" Cut, CB 3/8" Base w/ Punch Out, 2.000" Height

CO

58152205
T21 5/16" Cut, CB 3/8" Base w/ Springs

SO

58152250
T22 21/64" Cut, CB 3/8" Base, 0.918" Height

CO

58152300
T22 21/64" Cut, CB 3/8" Base w/ Springs
58152340
T22 21/64" Cut, CB 3/8" Base
58152350
T22 21/64" Cut, CB 3/8" Base
58152400
T22 21/64" Cut, CB 3/8" Base w/ Punch Out
58152450
T22 21/64" Cut, CB 3/8" Base w/ Springs
58152452
T22 21/64" Cut, OB 3/8" Base w/ Punch Out
58152500
T23 11/32" Cut, IB 3/8" Base
58152550
T23 11/32" Cut, IB 3/8" Base w/ Punch Out
58152600
T23 11/32" Cut, IB 3/8" Base w/ Springs, 0.918" Height

CO

58152650
T23 11/32" Cut, IB 3/8" Base
58152700
T23 11/32" Cut, IB 3/8" Base w/ Punch Out
58152750
T23 11/32" Cut, IB 3/8" Base w/ Springs
58152800
T23 11/32" Cut, IB 3/8" Base w/ Punch Out
58152850
T24 23/64" Cut, IB 3/8" Base
58152900
T24 23/64" Cut, IB 3/8" Base w/ Punch Out
58152950
T24 23/64" Cut, IB 3/8" Base w/ Springs
58153000
T24 23/64" Cut, IB 3/8" Base w/ Springs
58153050
T24 23/64" Cut, IB 3/8" Base
58153100
T24 23/64" Cut, IB 3/8" Base w/ Punch Out
58153150
T24 23/64" Cut, IB 3/8" Base w/ Springs
58153200
T24 23/64" Cut, IB 3/8" Base
58153250
T24 23/64" Cut, IB 3/8" Base, 1.000" Height

CO

58153280
T24 23/64" Cut, IB 3/8" Base w/ Punch Out
58153300
T25 21/64" Cut, OB 7/16" Base, 0.918" Height

CO

58153350
T25 21/64" Cut, OB 7/16" Base w/ Springs, 0.918" Height

CO

58153450
T25 21/64" Cut, OB 7/16" Base w/ Punch Out
58153500
T25 21/64" Cut, OB 7/16" Base w/ Springs, 0.937" Height

CO

58153530
T25 21/64" Cut, OB 7/16" Base w/ Punch Out
58153550
T26 11/32" Cut, OB 7/16" Base, 0.918" Height

CO

58153600
T26 11/32" Cut, OB 7/16" Base w/ Springs, 0.918" Height

CO

58153650
T26 11/32" Cut, OB 7/16" Base
58153700
T26 11/32" Cut, OB 7/16" Base w/ Punch Out
58153750
T26 11/32" Cut, OB 7/16" Base w/ Springs
58153800
T27 3/8" Cut, CB 7/16" Base, 0.918" Height

CO

58153850
T27 3/8" Cut, CB 7/16" Base w/ Punch Out
58153900
T27 3/8" Cut, CB 7/16" Base w/ Springs
58153902
T27 3/8" Cut, CB 7/16" Base
58153950
T27 3/8" Cut, CB 7/16" Base
58153905
T27 E/8" Cut, CB 7/16" Base
58154000
T27 3/8" Cut, CB 7/16" Base
58154050
T27 3/8" Cut, CB 7/16" Base w/ Brass Ejector, 0.937" Height

CO

58154100
T27 3/8" Cut, CB 7/16" Base w/ Punch Out
58154150
T27 3/8" Cut, CB 7/16" Base w/ Springs
58154155
T27 3/8" Cut, CB 7/16" Base w/ Steel Springs
58154200
T27 3/8" Cut, CB 7/16" Base
58154250
T27 3/8" Cut, CB 7/16" Base w/ Punch Out
58154300
T27 3/8" Cut, CB 7/16" Base w/ Springs, 1.000" Height

CO

58154320
T27 3/8" Cut, CB 7/16" Base
58154350
T27 3/8" Cut, CB 7/16" Base w/ Punch Out, 1.125" Height

CO

58154400
T27 3/8" Cut, CB 7/16" Base w/ Springs, 1.125" Height

CO

58154450
T27 3/8" Cut, CB 7/16" Base, 1.250" Height

CO

58154500
T27 3/8" Cut, CB 7/16" Base w/ Punch Out, 1.250" Height

CO

58154550
T27 3/8" Cut, CB 7/16" Base w/ Springs
58154600
T27 3/8" Cut, CB 7/16" Base
58154610
T27 3/8" Cut, CB 7/16" Base w/ Punch Out

SO

58154650
T27 3/8" Cut, CB 7/16" Base w/ Springs, 1.500" Height

CO

58154700
T27 3/8" Cut, CB 7/16" Base
58154750
T28 25/64" Cut, CB 7/16" Base, 0.918" Height

CO

58154800
T28 25/64" Cut, CB 7/16" Base w/ Punch Out
58154850
T28 25/64" Cut, CB 7/16" Base w/ Springs
58154900
T28 25/64" Cut, CB 7/16" Base w/ Springs
58154950
T28 25/64" Cut, CB 7/16" Base
58155000
T28 25/64" Cut, CB 7/16" Base w/ Punch Out
58155050
T28 25/64" Cut, CB 7/16" Base w/ Springs
58155100
T28 25/64" Cut, CB 7/16" Base w/ Punch Out
58155150
T29 13/32" Cut, IB 7/16" Base, 0.918" Height

CO

58155200
T29 13/32" Cut, IB 7/16" Base w/ Punch Out
58155250
T29 13/32" Cut, IB 7/16" Base w/ Springs, 0.918" Height

CO

58155300
T29 13/32" Cut, IB 7/16" Base
58155305
T29 13/32" Cut, IB 7/16" Base w/ Springs
58155350
T29 13/32" Cut, IB 7/16" Base
58155400
T29 13/32" Cut, IB 7/16" Base w/ Punch Out
58155450
T29 13/32" Cut, IB 7/16" Base w/ Springs
58155500
T30 27/64" Cut, IB 7/16" Base
58155600
T30 27/64" Cut, IB 7/16" Base w/ Springs, 0.918" Height

CO

58155550
T30 27/64" Cut, IB 7/16" Base, 0.918" Height

CO

58155650
T30 27/64" Cut, IB 7/16" Base
58155750
T30 27/64" Cut, IB 7/16" Base w/ Springs
58155700
T30 27/64" Cut, IB 7/16" Base w/ Punch Out
58155760
T30 27/64" Cut, IB 7/16" Base

SO

58155800
T30 27/64" Cut, IB 7/16" Base, 1.000" Height

CO

58155850
T30 27/64" Cut, IB 7/16" Base
58155900
T31 25/64" Cut, OB 1/2" Base, 0.918" Height

CO

58155950
T31 25/64" Cut, OB 1/2" Base w/ Springs, 0.918" Height

CO

58156000
T31 25/64" Cut, OB 1/2" Base
58156050
T31 25/64" Cut, OB 1/2" Base w/ Punch Out, 0.937" Height

CO

58156100
T31 25/64" Cut, OB 1/2" Base w/ Springs, 0.937" Height

CO

58156150
T32 13/32" Cut, OB 1/2" Base, 0.918" Height

CO

58156200
T32 13/32" Cut, OB 1/2" Base w/ Springs, 0.918" Height

CO

58156250
T32 13/32" Cut, OB 1/2" Base
58156300
T32 13/32" Cut, OB 1/2" Base w/ Punch Out
58156350
T32 13/32" Cut, OB 1/2" Base w/ Springs
58156400
T33 7/16" Cut, CB 1/2" Base, 0.918" Height

CO

58156450
T33 7/16" Cut, CB 1/2" Base w/ Punch Out
58156500
T33 7/16" Cut, CB 1/2" Base w/ Springs
58156550
T33 7/16" Cut, CB 1/2" Base
58156600
T33 7/16" Cut, CB 1/2" Base w/ Punch Out
58156650
T33 7/16" Cut, CB 1/2" Base w/ Springs
58156700
T33 7/16" Cut, CB 1/2" Base, 1.000" Height

CO

58156725
T33 7/16" Cut, CB 1/2" Base w/ Springs
58156750
T33 7/16" Cut, CB 1/2" Base w/ Punch Out
58156775
T33 7/16" Cut, CB 1/2" Base
58156800
T33 7/16" Cut, CB 1/2" Base w/ Punch Out
58156850
T34 29/64" Cut, CB 1/2" Base, 0.918" Height

CO

58156900
T34 29/64" Cut, CB 1/2" Base w/ Springs, 0.918" Height

CO

58156950
T34 29/64" Cut, CB 1/2" Base
58157000
T34 29/64" Cut, CB 1/2" Base w/ Punch Out
58157050
T34 29/64" Cut, CB 1/2" Base w/ Springs
58157100
T35 15/32" Cut, IB 1/2" Base, 0.918" Height

CO

58157150
T35 15/32" Cut, IB 1/2" Base w/ Punch Out, 0.918" Height

CO

58157200
T35 15/32" Cut, IB 1/2" Base w/ Springs
58157250
T35 15/32" Cut, IB 1/2" Base
58157300
T35 15/32" Cut, IB 1/2" Base w/ Punch Out
58157350
T35 15/32" Cut, IB 1/2" Base w/ Springs
58157400
T35 15/32" Cut, IB 1/2" Base, 1.000" Height

CO

58157450
T36 31/64" Cut, IB 1/2" Base, 0.918" Height

CO

58157500
T36 31/64" Cut, IB 1/2" Base w/ Punch Out, 0.918" Height

CO

58157550
T36 31/64" Cut, IB 1/2" Base w/ Springs
58157600
T36 31/64" Cut, IB 1/2" Base
58157650
T36 31/64" Cut, IB 1/2" Base w/ Springs
58157700
T36 31/64" Cut, IB 1/2" Base w/ Springs
58157750
T36 31/64" Cut, IB 1/2" Base
58157452
T36 31/64" Cut, IB 1/2" Base
58157800
T36 31/64" Cut, IB 1/2" Base, 1.000" Height

CO

58157850
T36 31/64" Cut, IB 1/2" Base w/ Punch Out, 1.000" Height

CO

58157900
T36 31/64" Cut, IB 1/2" Base w/ Springs, 1.125" Height

CO

58157905
T36 31/64" Cut, IB 1/2" Base w/ Punch Out
58157950
T37 29/64" Cut, OB 9/16" Base, 0.918" Height

CO

58158000
T37 29/64" Cut, OB 9/16" Base, 0.937" Height

CO

58158050
T37 29/64" Cut, OB 9/16" Base w/ Punch Out
58158100
T38 15/32" Cut, OB 9/16" Base, 0.918" Height

CO

58158150
T38 15/32" Cut, OB 9/16" Base w/ Springs, 0.918" Height

CO

58158200
T38 15/32" Cut, OB 9/16" Base, 0.937" Height

CO

58158250
T38 15/32" Cut, OB 9/16" Base w/ Punch Out, 0.937" Height

CO

58158255
T38 15/32" Cut, OB 9/16" Base w/ Springs
58158300
T39 1/2" Cut, CB 9/16" Base
58158350
T39 1/2" Cut, CB 9/16" Base w/ Punch Out
58158400
T39 1/2" Cut, CB 9/16" Base w/ Springs
58158420
T39 1/2" Cut, CB 9/16" Base w/ Springs
58158450
T39 1/2" Cut, CB 9/16" Base
58158302
T39 1/2" Cut, CB 9/16" Base
58158460
T39 1/2" Cut, CB 9/16" Base w/ Pins

SO

58158500
T39 1/2" Cut, CB 9/16" Base w/ Punch Out
58158600
T39 1/2" Cut, CB 9/16" Base w/ Springs
58158650
T39 1/2" Cut, CB 9/16" Base
58158700
T39 1/2" Cut, CB 9/16" Base w/ Punch Out
58158750
T39 1/2" Cut, CB 9/16" Base
58158800
T39 1/2" Cut, CB 9/16" Base w/ Punch Out

SO

58158845
T39 1/2" Cut, CB 9/16" Base
58158850
T39 1/2" Cut, CB 9/16" Base w/ Punch Out
58158870
T39 1/2" Cut, CB 9/16" Base
58158875
T39 1/2" Cut, CB 9/16" Base w/ Punch Out
58158900
T40 33/64" Cut, CB 9/16" Base
58158950
T40 33/64" Cut, CB 9/16" Base w/ Springs
58159000
T40 33/64" Cut, CB 9/16" Base
58159050
T40 33/64" Cut, CB 9/16" Base w/ Punch Out
58159100
T40 33/64" Cut, CB 9/16" Base w/ Springs
58159105
T40 33/64" Cut, CB 9/16" Base w/ Springs
58159150
T41 17/32" Cut, IB 9/16" Base, 0.918" Height

CO

58159200
T41 17/32" Cut, IB 9/16" Base w/ Punch Out, 0.918" Height

CO

58159250
T41 17/32" Cut, IB 9/16" Base w/ Springs, 0.918" Height

CO

58159300
T41 17/32" Cut, IB 9/16" Base
58159350
T41 17/32" Cut, IB 9/16" Base w/ Punch Out
58159400
T41 17/32" Cut, IB 9/16" Base w/ Springs
58159500
T42 35/64" Cut, IB 9/16" Base w/ Springs
58159450
T42 35/64" Cut, IB 9/16" Base w/ Punch Out
58159550
T42 35/64" Cut, IB 9/16" Base
58159600
T42 35/64" Cut, IB 9/16" Base
58159650
T42 35/64" Cut, IB 9/16" Base w/ Punch Out
58159700
T42 35/64" Cut, IB 9/16" Base w/ Springs
58159750
T42 35/64" Cut, IB 9/16" Base, 1.000" Height

CO

58159800
T42 35/64" Cut, IB 9/16" Base w/ Springs
58159850
T43 33/64" Cut, OB 5/8" Base, 0.918" Height

CO

58159900
T43 33/64" Cut, OB 5/8" Base, 0.937" Height

CO

58159950
T43 33/64" Cut, OB 5/8" Base w/ Punch Out
58160000
T43 33/64" Cut, OB 5/8" Base w/ Springs, 0.937" Height

CO

58160050
T44 17/32" Cut, OB 5/8" Base, 0.918" Height

CO

58160100
T44 17/32" Cut, OB 5/8" Base
58160150
T44 17/32" Cut, OB 5/8" Base w/ Punch Out
58160200
T44 17/32" Cut, OB 5/8" Base w/ Springs
58160250
T45 9/16" Cut, CB 5/8" Base
58160300
T45 9/16" Cut, CB 5/8" Base w/ Punch Out, 0.918" Height

CO

58160350
T45 9/16" Cut, CB 5/8" Base w/ Springs
58160400
T45 9/16" Cut, CB 5/8" Base
58160450
T45 9/16" Cut, CB 5/8" Base w/ Punch Out
58160500
T45 9/16" Cut, CB 5/8" Base
58160550
T45 9/16" Cut, CB 5/8" Base w/ Punch Out
58160600
T45 9/16" Cut, CB 5/8" Base w/ Springs
58160650
T45 9/16" Cut, CB 5/8" Base, 1.000" Height

CO

58160700
T45 9/16" Cut, CB 5/8" Base, 1.125" Height

CO

58160750
T45 9/16" Cut, CB 5/8" Base
58160800
T45 9/16" Cut, CB 5/8" Base w/ Punch Out
58160850
T46 37/64" Cut, CB 5/8" Base Ww/ Springs, 0.918" Height

CO

58160900
T46 37/64" Cut, CB 5/8" Base
58160950
T46 37/64" Cut, CB 5/8" Base w/ Punch Out
58161000
T46 37/64" Cut, CB 5/8" Base w/ Springs
58161050
T47 19/32" Cut, IB 5/8" Base
58161150
T47 19/32" Cut, IB 5/8" Base
58161075
T47 19/32" Cut, IB 5/8" Base w/ Punch Out
58161100
T47 19/32" Cut, IB 5/8" Base w/ Springs, 0.918" Height

CO

58161200
T47 19/32" Cut, IB 5/8" Base w/ Punch Out
58161250
T47 19/32" Cut, IB 5/8" Base w/ Springs
58161300
T48 39/64" Cut, IB 5/8" Base, 0.918" Height

CO

58161350
T48 39/64" Cut, IB 5/8" Base w/ Punch Out
58161400
T48 39/64" Cut, IB 5/8" Base w/ Springs, 0.918" Height

CO

58161450
T48 39/64" Cut, IB 5/8" Base
58161500
T48 39/64" Cut, IB 5/8" Base w/ Punch Out
58161550
T48 39/64" Cut, IB 5/8" Base w/ Springs
58161700
T48 39/64" Cut, IB 5/8" Base, 1.000" Height

CO

58161720
T48 39/64" Cut, IB 5/8" Base w/ Punch Out
58161750
T49 37/64" Cut, OB 11/16" Base, 0.918" Height

CO

58161800
T49 37/64" Cut, OB 11/16" Base, 0.937" Height

CO

58161850
T49 37/64" Cut, OB 11/16" Base w/ Punch Out
58161900
T50 19/32" Cut, OB 11/16" Base, 0.937" Height

CO

58161950
T50 19/32" Cut, OB 11/16" Base w/ Punch Out, 0.937" Height

CO

58162000
T50 19/32" Cut, OB 11/16" Base w/ Springs, 0.937" Height

CO

58162050
T51 5/8" Cut, CB 11/16" Base
58162100
T51 5/8" Cut, CB 11/16" Base w/ Punch Out, 0.918" Height

CO

58162150
T51 5/8" Cut, CB 11/16" Base w/ Springs
58162200
T51 5/8" Cut, CB 11/16" Base
58162250
T51 5/8" Cut, CB 11/16" Base w/ Punch Out
58162300
T51 5/8" Cut, CB 11/16" Base w/ Springs
58162330
T51 5/8" Cut, CB 11/16" Base
58162350
T51 5/8" Cut, CB 11/16" Base w/ Punch Out, 1.000" Height

CO

58162400
T51 5/8" Cut, CB 11/16" Base, 1.125" Height

CO

58162410
T51 5/8" Cut, CB 11/16" Base w/ Punch Out
58162450
T51 5/8" Cut, CB 11/16" Base w/ Punch Out
58162475
T51 5/8" Cut, CB 11/16" Base w/ Punch Out
58162500
T51 5/8" Cut, CB 11/16" Base
58162550
T52 41/64" Cut, CB 11/16" Base, 0.918" Height

CO

58162600
T52 41/64" Cut, CB 11/16" Base w/ Springs
58162650
T52 41/64" Cut, CB 11/16" Base
58162700
T52 41/64" Cut, CB 11/16" Base w/ Punch Out
58162750
T52 41/64" Cut, CB 11/16" Base w/ Springs
58162800
T53 21/32" Cut, IB 11/16" Base, 0.918" Height

CO

58162850
T53 21/32" Cut, IB 11/16" Base w/ Springs
58162900
T53 21/32" Cut, IB 11/16" Base
58162950
T53 21/32" Cut, IB 11/16" Base w/ Punch Out
58163000
T53 21/32" Cut, IB 11/16" Base w/ Springs
58163050
T54 43/64" Cut, IB 11/16" Base, 0.918" Height

CO

58163100
T54 43/64" Cut, IB 11/16" Base
58163150
T54 43/64" Cut, IB 11/16" Base w/ Punch Out
58163200
T54 43/64" Cut, IB 11/16" Base w/ Springs
58163250
T54 43/64" Cut, IB 11/16" Base, 1.000" Height

CO

58163300
T55 41/64" Cut, OB 3/4" Base, 0.918" Height

CO

58163350
T55 41/64" Cut, OB 3/4" Base
58163400
T55 41/64" Cut, OB 3/4" Base w/ Punch Out, 0.937" Height

CO

58163450
T55 41/64" Cut, OB 3/4" Base w/ Springs, 0.937" Height

CO

58163500
T56 21/32" Cut, OB 3/4" Base, 0.937" Height

CO

58163550
T56 21/32" Cut, OB 3/4" Base w/ Punch Out
58163600
T56 21/32" Cut, OB 3/4" Base w/ Springs
58163502
T56 21/32" Cut, OB 3/4" Base
58163650
T57 11/16" Cut, CB 3/4" Base, 0.918" Height

CO

58163700
T57 11/16" Cut, CB 3/4" Base w/ Punch Out, 0.918" Height

CO

58163750
T57 11/16" Cut, CB 3/4" Base
58163800
T57 11/16" Cut, CB 3/4" Base w/ Punch Out
58163850
T57 11/16" Cut, CB 3/4" Base w/ Springs
58163900
T57 11/16" Cut, CB 3/4" Base, 1.500" Height

CO

58163950
T58 45/64" Cut, CB 3/4" Base, 0.918" Height

CO

58164000
T58 45/64" Cut, CB 3/4" Base w/ Punch Out, 0.918" Height

CO

58164050
T58 45/64" Cut, CB 3/4" Base
58164100
T58 45/64" Cut, CB 3/4" Base w/ Punch Out
58164150
T58 45/64" Cut, CB 3/4" Base w/ Springs
58164450
T59 23/32" Cut, IB 3/4" Base
58164200
T59 23/32" Cut, IB 3/4" Base
58164250
T59 23/32" Cut, IB 3/4" Base w/ Punch Out, 0.918" Height

CO

58164300
T59 23/32" Cut, IB 3/4" Base